SPECIAL SPECIAL, EST. 2016
---
Special Special is a creative studio, founded by Wen-You Cai, that has served many functions since its inception in 2016. As a gathering space of creative minds, we are a platform that intends to surprise, delight, and inspire through our unique perspective on everyday experiences.

From 2016 – 2022 Special Special has been a gallery, shop and producer of art editions for everyday appreciation based out of the East Village of New York City. We collaborated, curated and transformed our space for immersive exhibitions, workshops, events with a wide range of artists, designers, and creatives. All the projects during this period is now tightly encapsulated in a book we made entitled A Small Pond Under the Blue Sky.
SELECT PROJECTS SELECT PROJECTS SELECT PROJECTS
---
Special Special Playground
October 4, 2019 – February 4, 2020
MGM COTAI, Macau

Special Special presented a playground inspired retail pop-up at MGM Macau featuring playful artworks and products that engaged people of all ages to participate in an intimate shopping experience. The spirited nature of the venue offered an alternative space of engagement and retreat in the casino environment for visitors of all ages. The playground featured new and past elements of Special Special's exhibitions and editions, becoming a platform that expanded the creative dialogue from the New York gallery across the world to Macau.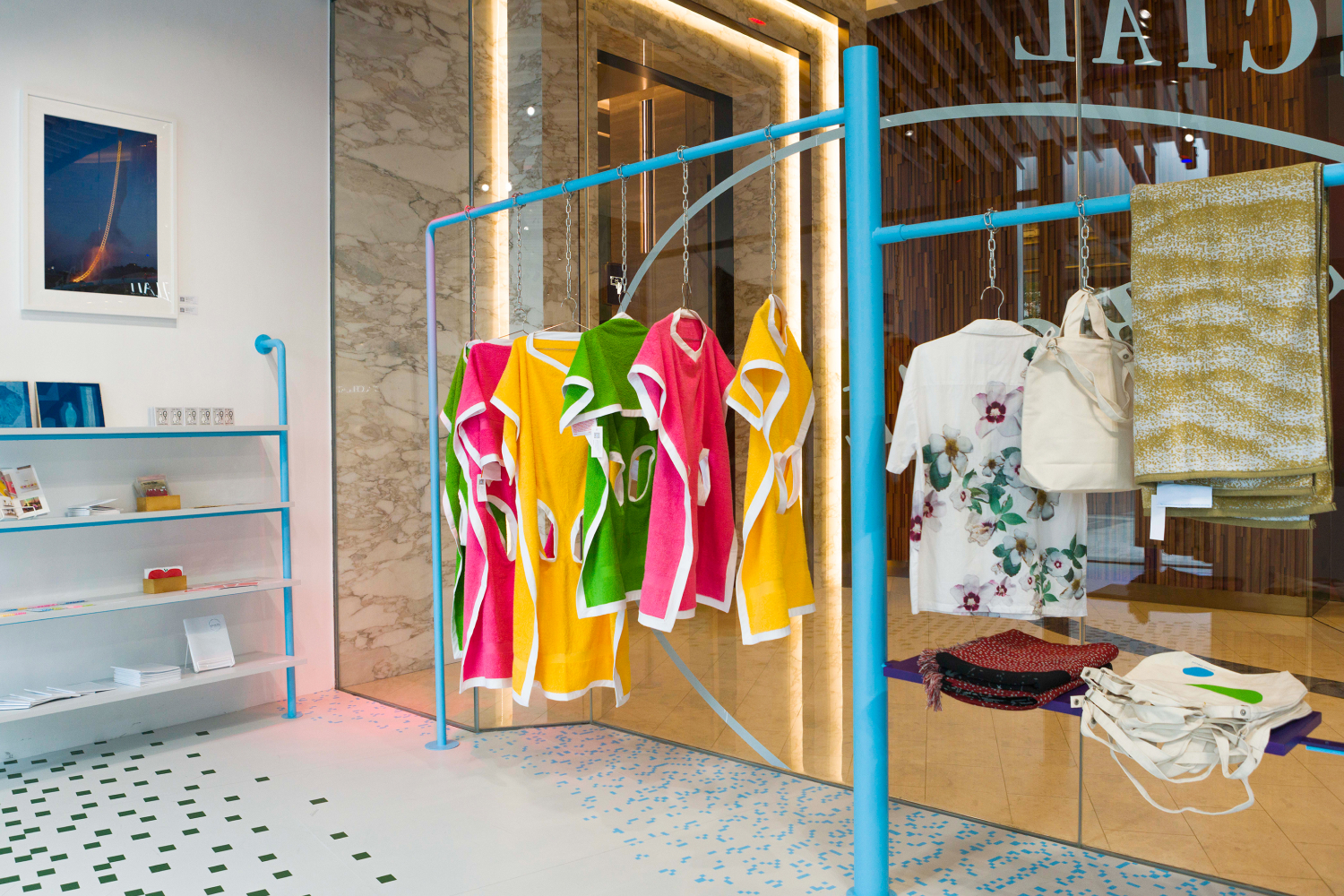 ---
Cyber Garden at Museum of Art at Pudong

July 8 – October 31, 2021
MUSEUM OF ART PUDONG, Shanghai

Special Special's first project in Shanghai, Cyber Garden, inaugurated the pop-up space in the new Museum of Art Pudong. Inspired by nostalgia for early millennial internet café culture, Special Special activated the museum with a 2,540-square-foot installation that featured collaborations with artists from around the world. For Special Special's biggest project yet, the team designed custom furniture for an immersive retail display that portrayed a Cyber Garden of nature reimagined through digital rendering. A major inspiration of the space design was Shanghai's Pearl Tower, which could be seen through the pop-up's window and is a symbol of the 1990s dreamscape that looked forward to what the 21st century would hold.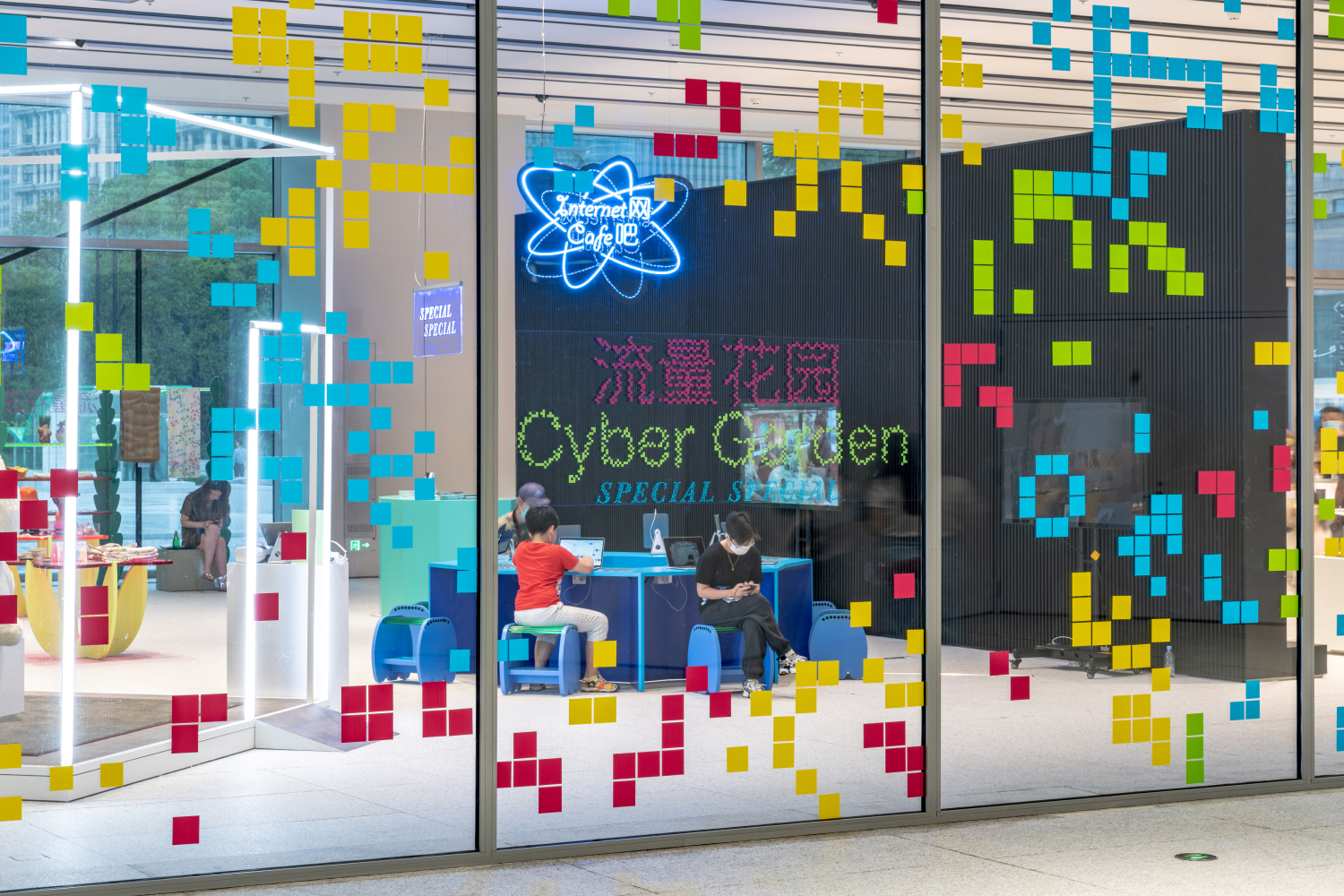 ---
Plant Adoption Bureau at TANK Art Festival

September 30 – October 3, 2021
TANK MUSEUM, Shanghai

For TANK Art Festival, Special Special created a Plant Adoption Bureau where visitors could take home a small but special houseplant through a heart-warming adoption process. Visitors were encouraged to browse the shelf for a plant that they felt a connection with. They could then name their plant, include their first family photo together, and record the height and weight, along with care instructions. The booklet also includes a note for an emergency contact if lost. The plants were taken home in a fashionable Special Special plant bag. During the four days of the art festival, many plants found new caregivers in unsuspecting visitors who had come to view art with no expectation of adding a plant member to their family.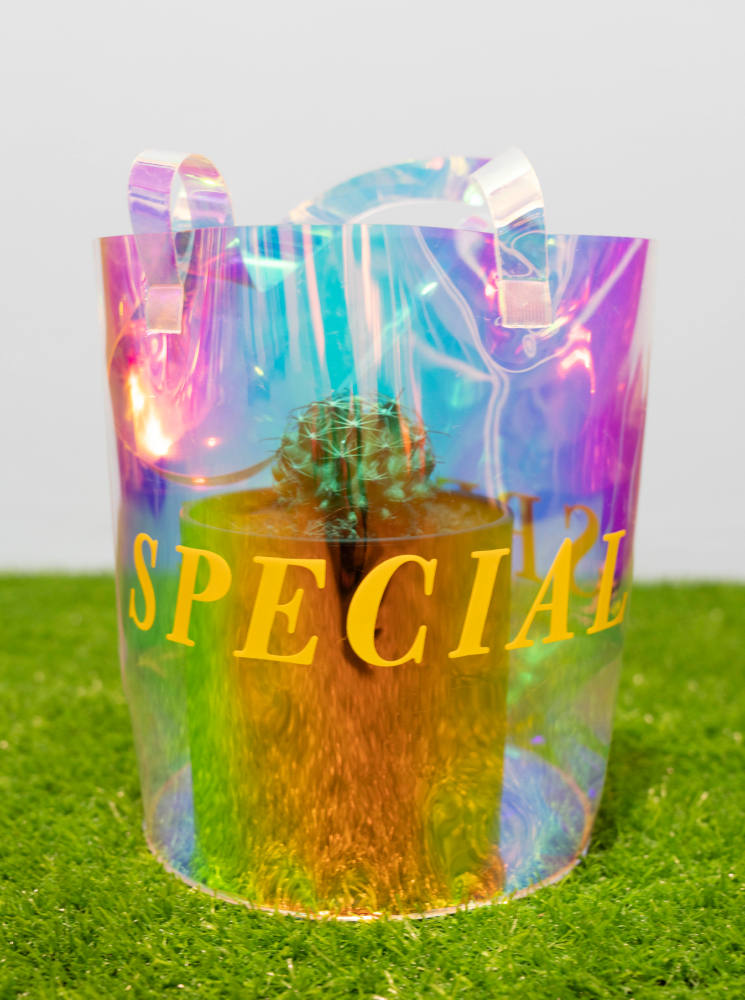 ---
Cyber Garden 2.0

November 25 – December 5, 2021
TX HUAIHAI YOUTH ENERGY CENTER, Shanghai

For this 10-day pop-up on the second floor of the vibrant shopping mall of TX Huaihai Youth Energy Center, Special Special reimagined the Cyber Garden furniture installation from MAP along with a green screen backdrop to expand the imagined environment through the omnipresence of the digital space. In addition, Shanghai locals were invited to participate in a Plant Residency with their houseplants with corresponding profiles of their stories, allowing plants to be nurtured together in the collective environment of the Youth Energy Center. Special Special also hosted an ecotourism art project with the conceptual 0135 Travel Agency by artist Hersey Lin and Hans Liu, taking visitors on exotic vacations in imagined and virtual forms, irrespective of weather, distance, or any other restrictions.


---